The staff here is exceptional and their operation is a well oiled machine with each staff member performing their role with care, knowledge and professionalism. You are given all your options without pressure to have services performed if you want to wait or opt out. I had quite a bit done for my dog and found the prices to be very reasonable. Dr. Z's demeanor is kind, thorough and reassuring. He is relatable and personable, and explains things in a way that is understandable. There is nothing intimidating about him or his office. Katie expertly "directs traffic", ensuring the office runs at maximum efficiency. When I was holding for one thing she filled the gap by having me talk to someone else on another so there was no waiting. My bill was ready when I arrived and before I could blink my payment was processed so I could be on my way. Diane is skilled at acknowledging communication so that you feel heard and secure that information is being properly gathered and disseminated and explains how to administer medication in detail. All this and you never even have to get out of your car. I'm a fan, and will continue to take my dog here even though I live in Vancouver. Thanks everyone, great job! A. Cross
Meet our Doctors and Team
---
"Gidget" Ziegenbalg family doggie
Gidget is BVC's greeter and she loves saying hello to all our clients and their furry friends!
Dr. Brett Ziegenbalg, D.V.M. (Practice Owner)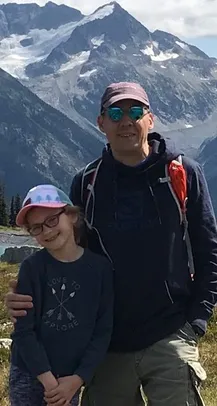 Dr. Ziegenbalg (Dr. Z), graduated from the University of Colorado at Boulder with a degree in Environmental Biology. After graduation he was commissioned as an officer in the US Navy and served as a Naval Intelligence Officer providing support to NATO operations in Bosnia, Rwanda and the middle east. He received his Doctorate in Veterinary Medicine from the University of Illinois at Urbana/Champaign and is a member of Phi Zeta. Dr. Z has special interests in preventative medicine, minimally invasive surgery, ultrasound and endoscopy. He loves the challenge of being proactive rather than reactive and trying to prevent problems before they happen. Dr. Z considers it a great privilege to take care of his patients, interact with and assist their owners to help provide longevity and quality of life for their pets, a.k.a family. Outside of work, he loves spending time with his wife Brandy and daughter Elise in the outdoors. On days off he can be found in the Cascade range north to the Coast range of British Columbia; ski mountaineering, heli-skiing and keeping up with his daughter on the mountain; who likes to jump off everything-like her dad! They have Gidget (pictured above), a toy poodle who you may see if you come into the clinic. She is our happy greeter.
---
Dr. Cameron Larson, D.V.M. (Associate Veterinarian)
Dr. Cameron Larson was born and raised in Oregon and graduated from Lakeridge High School in 2004, and is now living in West Linn. He went to Oregon State University where he received both an undergraduate degree in bio-engineering and Doctorate of Veterinary Medicine in 2013. When not working, he spends time with his wife, an equine veterinarian and their terrier mix Louis. They enjoy hiking and spending time outdoors. Dr. Larson also enjoys traveling, woodworking, skiing and scuba-diving. He joined our team in 2020.
---
Meet our Team
Burlingame Veterinary Clinic's team are experienced, and happy to take care of all our patient and client needs.
Practice Manager
Brandy Ziegenbalg
Brandy, Dr. Z's wife, has loved animals since she was very young. She has many years of experience in all facets of companion animal veterinary practice. Brandy attended Baptist School of Nursing in 2006 and became a surgical technician and worked in human general, orthopedic and ophthalmic surgery for 5 yrs. Brandy and Dr. Z married in June of 2006 and later had their daughter Elise in 2010. Brandy was the practice manager in their former practice in Arkansas which she and Dr. Ziegenbalg built and started in 2007. She now does the scheduling, hiring and helps manage at BVC. Brandy has enjoyed getting to know all the clients and their furry companions. In her spare time, she enjoys gardening, baking, hiking, traveling and snow skiing. You might even catch Gidget (Toy Poodle) and/or Riley (Golden Retriever) in the clinic and their sweet daughter Elise, who loves to help with the patients.
---
Administrative Assistant/Technician
Christine
Christine joined the BVC team in May 2019. She was born and raised in New Orleans, Louisiana. She attended Louisiana State University where she earned her degree in Animal Science. Christine has over 12 years of clinical experience; including ICU/Emergency shift lead at MedVet Medical and Cancer Center for Pets. She is currently enrolled at Penn Foster College pursuing a degree in Veterinary Technology. She moved to Portland in August of 2017. When not working, Christine likes to spend her time hiking, working in her garden and exploring PNW. She has 2 cats and she is pictured with her late chihuahua "Taco". We are proud to have Christine on our team!
---
CLIENT RELATIONS/VETERINARY ASSISTANT

Brenda

---
Veterinary Technician
Kristin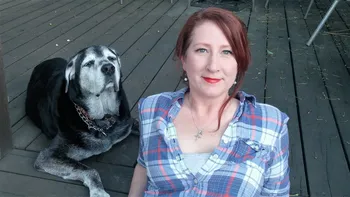 Kristin came to work with the BVC team in February of 2016. She is a native Portlander and has been working in the Veterinary field for 20 years. Above is a picture with her late lab mix "Mark" and her kitty "Randy". Kristin has been married to her wonderful husband Martin for 22 years. She and Martin love to go swimming, hiking, camping and canoeing in their spare time. Kristin takes pride in caring for all her patients and enjoys her job. We are very happy to have her on our team!
---
Veterinary Assistant
Spencer
Veterinary Technician Spencer moved to Portland from Southern California in 2021 with her fiancé and animal family. This includes their fur son Wyatt (featured above), two cats Chai and Titan, two rats and fish. Before moving to Portland and working at BVC, she went to school and earned a degree in Exotic Animal Training and Management to then become a Great Ape Zookeeper caring for Gorillas and Orangutans. She then transitioned into the veterinary field 3 years ago working with dogs, cats and exotic animals. She loves everything to do with caring for animals. On her days off, Spencer loves taking Wyatt out to explore and binge watching Harry Potter. We are very happy to have Spencer with us.
---
Veterinary Assistant

Sandia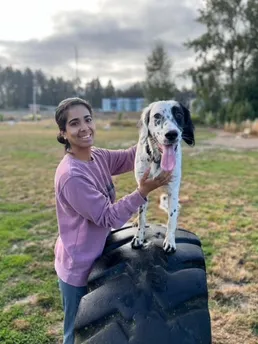 Sandia was born and raised in the San Francisco Bay Area. After studying animal science at the University of Illinois at Urbana-Champaign and starting veterinary school at the University of Sydney, Australia, she decided to take a step back from schooling to gain more experience in the field and has been working as a vet tech for the past 6 years. She moved to Portland in November of 2021 with her boyfriend, two cats, and two dogs. In her free time, she enjoys hiking, arts and crafts, and trying to keep her indoor plants alive. She joined the BVC in December of 2022. We are very happy to have Sandia on our team!